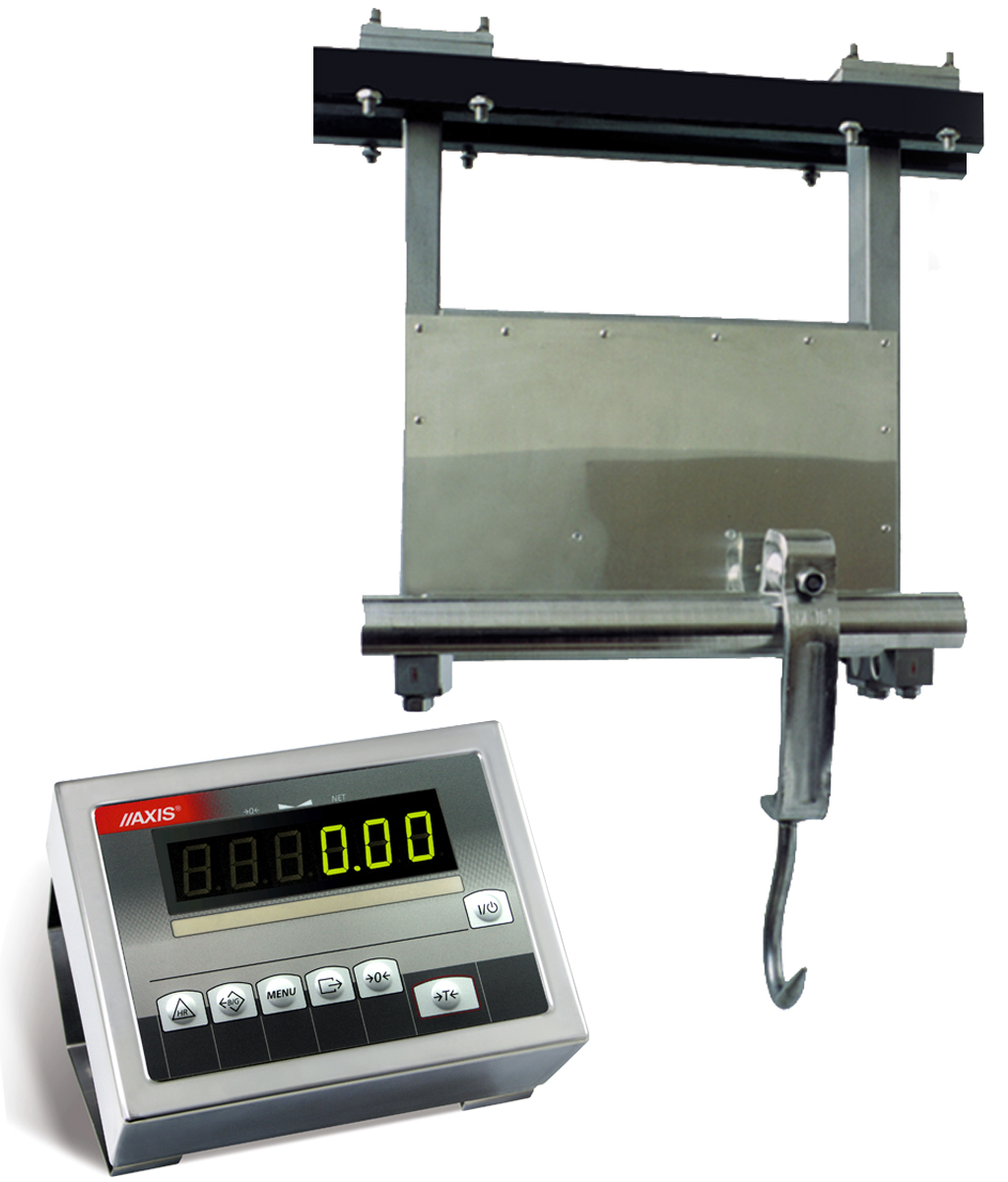 | | | | |
| --- | --- | --- | --- |
| Model | Max. Capacity | Division | Price. |
| 4BA300FN1S | 300kg | 0,1kg | Contact. |
| 4BA600FN1S | 600kg | 0,2kg | Contact. |
stainless steel
indicator housing IP65
sensors IP68
Stainless line scales are designed for weighing of half carcasses, hanged on the hook with roll and moved on the rail. Scale built in the technological line is the segment of rail, where half carcasses are transported. All scales have a full set of special functions.
Special functions:
Technical Data:
Model
4BA300T
4BA600T
Capacity (Max)
300kg
600kg
Reading unit (d)
0,1kg
0,2kg
Verification unit (e)
0,1kg
0,2kg
Tare range
-Max
Accuracy class
III
Working temperature
-10÷40°C
Weighing time
<4s
Balance weight
25kg
Power supply
~230V 50Hz 8VA
Indicator protection class
IP65
Sensor protection class
IP68
Line segment length
0,5m
Line segment diameter
48mm
ADDITIONAL OPTIONS
ON ORDER :
Option Name
NET PRICE
Assembly to production line
Contact.
Double range (Link.)

Contact.

Ethernet module (for LAN) (Link.)
Contact.
full set of special functions (Link.)
Including with Machine.
RS232+USB interface

Contact.

RS232C+RS485 (up to 1000m)

Contact.

Second serial interface RS232C

Contact.

Total weight calculation function (TOTAL) (Link.)

Contact.

Transoptor output (Threshold function) (Link.)

Contact.
Reference Customer (กดที่โลโก้ เพื่อดูเว็บไซต์ของลูกค้าที่สั่งซื้อสินค้ากับทางบริษัท)​
อยู่ในระหว่างการอัพเดทข้อมูล...