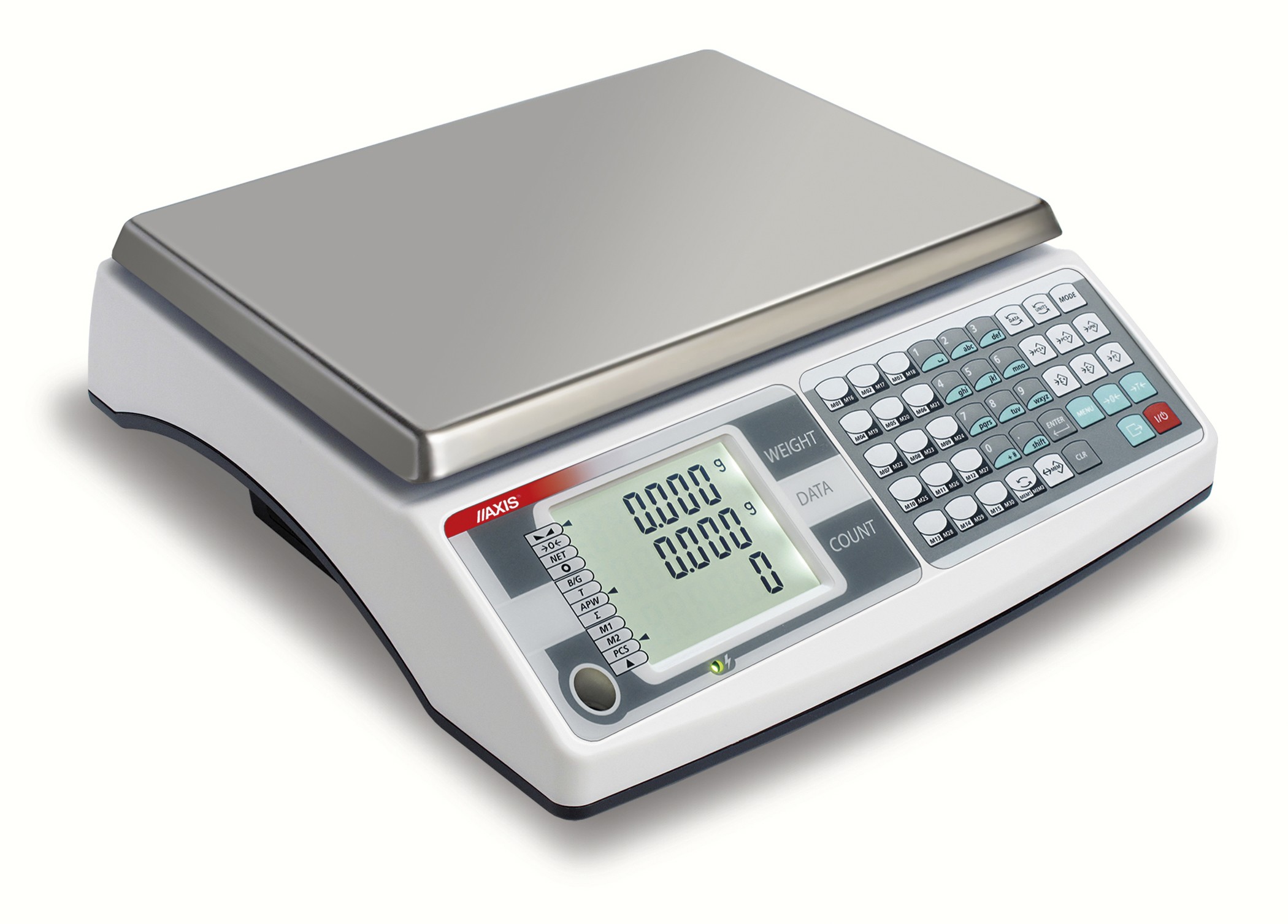 separate displays indicating: current mass, elementary mass and amount of details
professional pieces counting with equal mass with learning algorithm
data library
measurements series summary
chosing weight units: g, kg, lb, oz, ozt, ct
USB and RS232C interface
BD/TLY counting scales series are designed to count details with equal mass in storages, manufacturing supervision, sorting etc.
Pieces counting function is based on calculating equal mass of detail received from measurement sample quantity entered by keyboard. During counting "learning algorithm" is used that corrects inaccuracies of counting. Using three separate displays and effective ways of pieces counting distinguish BD/TLY scales as specialized work instrument, but it can also be used for standard measurements of mass.
Beside functions related with pieces counting, scales are equipped with a lot of functions boosting overall effectiveness of scale. Storing entered tare, auto-zeroing, measurement in various weighting units (g, kg, ct, lb, oz, ozt), measurements series summary etc.


Special functions:
professional pieces counting
data library (1000 products)
summing series of measurements
autozeroing
threshold values function
Technical Data:
Model
BD3TLY
BD6TLY
BD12TLY
BD30TLY
Capacity (Max)
3kg
6kg
12kg
30kg
Reading unit (d)
0,5g
1g
2g
5g
Tare range
-3kg
-6kg
-12kg
-30kg
Working temperature
-10÷+40°C
Weighing time
<3s
Total dimensions
335x320x110mm
Pan size
300x210
Balance weight
3,5kg
Power supply
~230 50 Hz 6VA / =12V 1,2A (power unit)
ADDITIONAL OPTIONS
ON ORDER :
Option Name
NET PRICE
Additional displays 3xLCD
(back side of the balance) (Link.)
Contact.
Barcode reader LS2208 (Link.)

Contact.

Contact.
Reference Customer (กดที่โลโก้ เพื่อดูเว็บไซต์ของลูกค้าที่สั่งซื้อสินค้ากับทางบริษัท)​
อยู่ในระหว่างการอัพเดทข้อมูล...