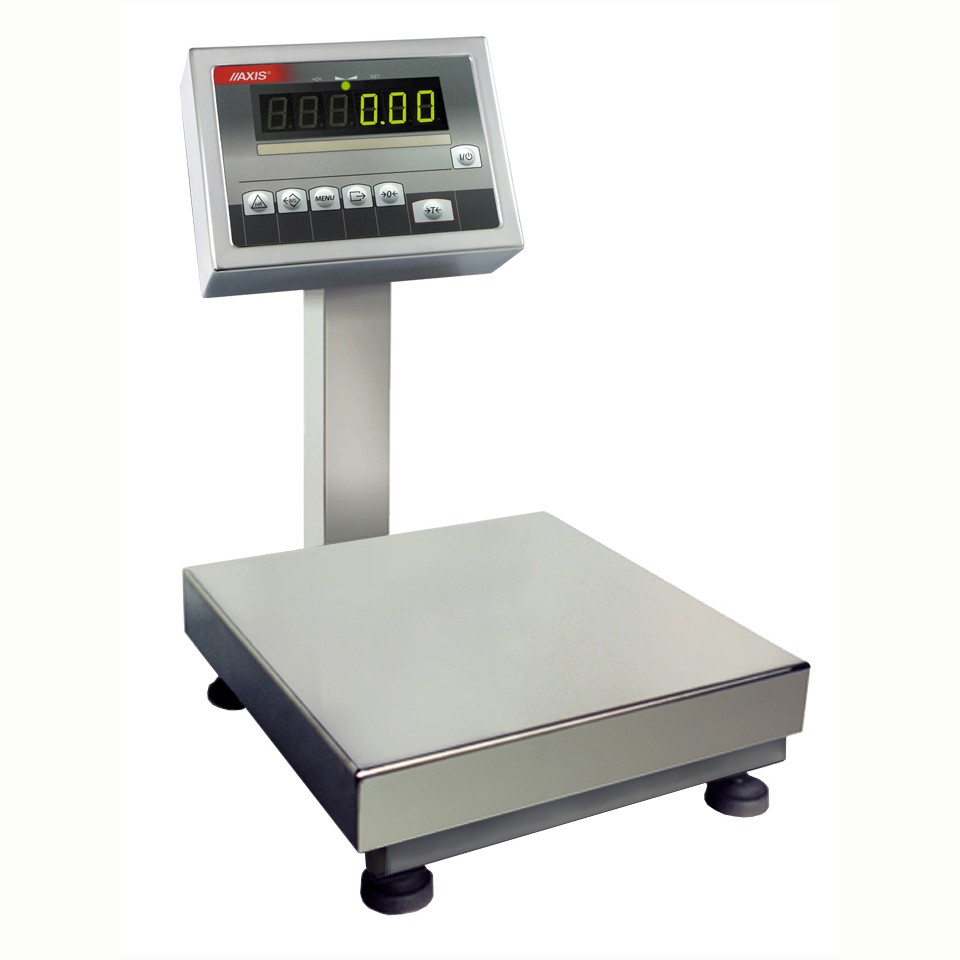 higher measurement precision
whole structure from stainless steel
resistance to water and detergents
LED display
products and users database
RS232 interface
internal power supply unit
BA/NY series platform scales are designed to use in industry and trade. Their main feature is higher precision than in standard platform scales (6 000 verification plots) and additionally BA6 and BA60 models have more precise reading plot. Other adavantages is resistance to water and detergents and stainless steel construction. All models have in standard modern ME-01 meter with 32-bit microprocessor. Scales are equipped with a full set of special functions like pieces counting, percentage, average calculating and also extended printout option.
In BA/NKY scales (with letter K in the type name for example: BA120NKY) scale platform is connected with meter using a cable, in BA/NY scales meter is situated on column (look picture above).
Special functions:
Technical Data:
Model
BA6NY
-A3
BA60NY -A5
BA60NY -A6
BA12NY -A3
BA30NY -A5
BA120NY -A5
BA120NY -A6
Capacity (Max)
6kg
60kg
60kg
12kg
30kg
120kg
120kg
Reading unit (d)
1g
10g
10g
2g
5g
20g
20g
Verification unit (e)
1g
10g
10g
2g
5g
20g
20g
Tare range
-Max
Accuracy class
III
Working temperature
-10÷40°C
Pan size
250x260
400x400
400x500
250x260
400x400
400x400
400x500
Power supply
~230V 50Hz 8VA
Reference Customer (กดที่โลโก้ เพื่อดูเว็บไซต์ของลูกค้าที่สั่งซื้อสินค้ากับทางบริษัท)​
อยู่ในระหว่างการอัพเดทข้อมูล...