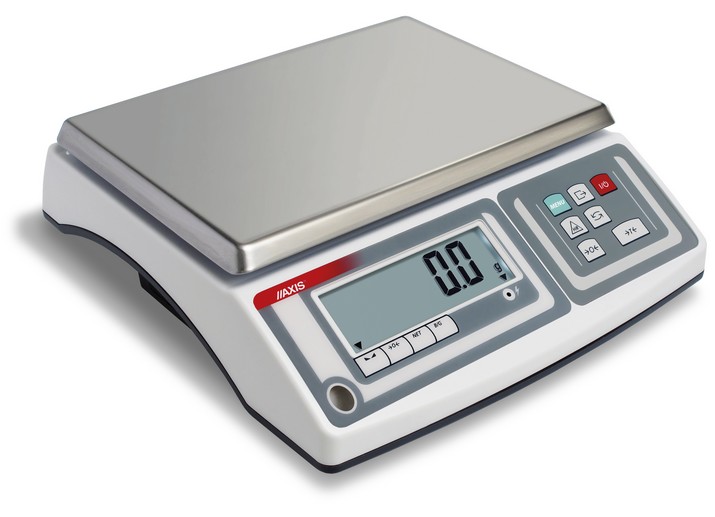 Increased precision (6000e)
USB and RS232C interface
power supply from rechargeable or ordinary
products and users database
batteries
Technical bench scales of BD/TWY series are purposed for applications in laboratories, manufacturing supervision, storages, sorting etc.

Their main feature is better precision and a wide range of measured mass (to 30kg). Large pan (300x210mm!), modern design and easiness of use are main advantages of this scales. BD/TWY scales have a full set of special functions such as pieces counting, tare memory, wide aray of printing options, autozeroing and statistics. Moreover BD/TWY series scales are equipped with USB and RS232C interface (in standard!), LAN, Wi-Fi, transoptor WY, 4-20mA (options) etc.

Special functions:
Technical Data:
Model
BD1.5TW
BD3TW
BD6TW
BD15TW
BD30TW
Capacity (Max)
3kg
6kg
12kg
20kg
30kg
Reading unit (d)
0,5g
1g
2g
0,1g
5g
Working temperature
-10÷+40°C
Interfaces
in standard: RS232C and USB, options: LAN, Wi-Fi, transoptor out
Weighing time
<3s
Total dimensions
335x320x110mm
Pan size
300x210mm
Balance weight
3,5kg
Power supply
~230 50 Hz 6VA / =12V 1,2A (feeder)
Reference Customer (กดที่โลโก้ เพื่อดูเว็บไซต์ของลูกค้าที่สั่งซื้อสินค้ากับทางบริษัท)​
อยู่ในระหว่างการอัพเดทข้อมูล...