ไดนาโมปั่นไฟเพลาลอย ไดปั่นไฟ เครื่องปั่นไฟ หรือเครื่องกำเนิดกระแสไฟฟ้า แบบเฟสเดี่ยว มีให้เลือกตั้งแต่ขนาด 2 - 24 kW
2KW-24KW Super Fuji ST Single Phase Brush Dynamo
Operating Conditions:
1. Altitude: not exceed 1000m.
2. Cooling air temperature: 258~313K
3. Relative air humidity: not exceed 90%.
ST Single Phase Alternator Suppliers
The ST series generators are mainly designed to serve as power generating unit of small capacity, which supply electricity for lighting purpose in ships, for house-hold electric devices used in towns or villages.
The construction of the generators is of drip-proof, salient pole rotating field self excitation and constant voltage type. The alternator interior is used with high quality electric magnetic and Electric materials. Stator insulation is class B. These generators are elegant in appearance, tight in construction and easy maintenance. IEC standard are adopted on dimension, these dimension are suitable for using in Australia, Europe, America and other countries with the end covers to be model B.
The alternators are of harmonic wave self-exciation constant voltage system and automatic voltage control excitation constant voltage system, both of them have Excellent dynamic performance, convenient and reliable in operation. These generators are excellent in appearance and easy to maintain. Dimensions are adopted according to I.E.C Standards.
The voltage of the alternator is 230V of 115V, the frequency is 50Hz. Its operation mode is of continuous duty. It can provide 60Hz and the other voltage's generator according to necessary.
The alternator can be coupled with a prime mover directly or through a V-belt, with 5% change of speed of the prime mover under load Variation of 0~100%, at a voltage of 230V or 115V, 50Hz or 60Hz to get a satisfactory constant voltage performance.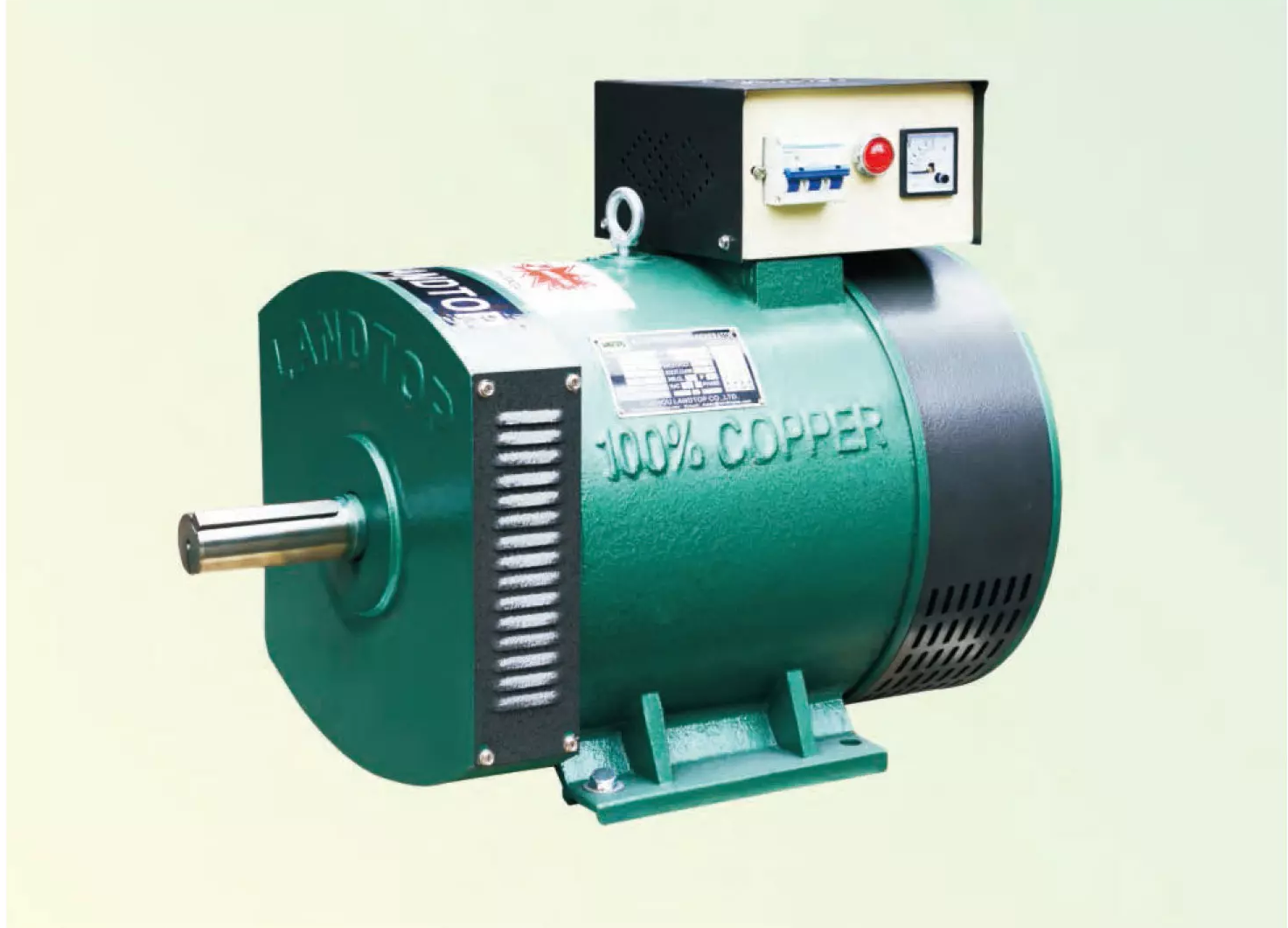 
The generators are to be used in town, the countryside, work sites, Mountain and pasture lands as a electric power source for lighting purpose, It can also be used as a reserved power source for emergent case. The generators are of drip-poof with rotary field type and with the adoption of harmonic excitation system, that allow your easy operation and simple maintenance. The generators are of three-phase four-wire type, making use of atar connection with neutral point. The rated line voltage is 400V. Phase voltage 230V. Frequency 50Hz. power factor 0.8 (lag). It can provide 60Hz and the other voltage's generator according to necessary. They can be coupled with a prime mover directly or through V-belt making right or reverse continuous rotation at the rated speed, when the revolution slip of prime mover is 3% and load varies in the range of 0-100% coscj) 1.0-0.8 they give Food constant voltage. After sudden change (increase or decrease)of load. the generators will soon return to their normal working state, without any starting devices the generator can directly start an unloaded squirrel cage Induction motor.
Reference Customer (กดที่โลโก้ เพื่อดูเว็บไซต์ของลูกค้าที่สั่งซื้อสินค้ากับทางบริษัท)​
อยู่ในระหว่างอัพเดทข้อมูล...