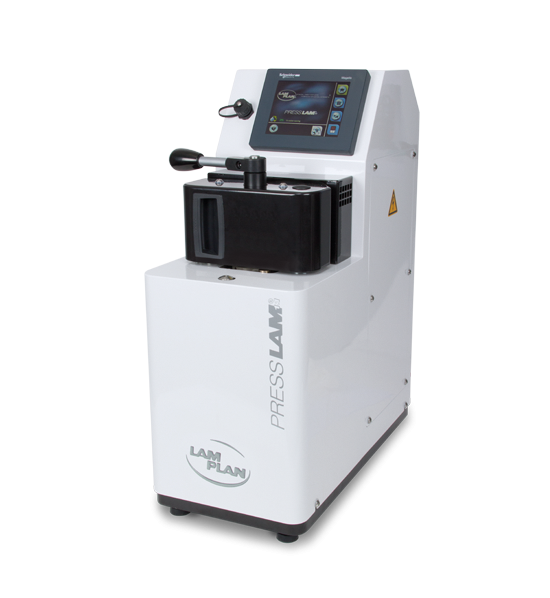 เครื่องอัดจับชิ้นงานด้วยความร้อน หรือเครื่องขึ้นเรือนชิ้นงานแบบอัตโนมัติ (Automatic Hot Mounting Press)
PRESSLAM® 1.1
The PRESSLAM®1.1 is a multi-purpose, easy-to-use, automatic hot mounting press that will allow you to achieve high production levels.

All parameters are accessible via a 5.7" colour touch screen. The graphic interface guides you intuitively through the different settings, which you can then store and reuse at will. It is also possible to transfer predefined hot mounting parameters via the machine's USB port. All phases are visible on the screen during the hot mounting cycle and can be modified at any time.

Each function can be adjusted separately and 4 pressurisation modes are available, along with a function reducing the amount of water used for cooling.

Once put in service the PRESSLAM®1.1 runs a pre-heating cycle that is cleared after 6 minutes without user intervention.

Access to mould is wide open for a sample positioning and filling facility. Quick and effortless, the locking/unlocking is realised by a cover and a ¼ turn locking lever.

Technical data PRESSLAM®1.1
Capacity
Ø 25,4 to Ø 50 mm
Heating system
4 x 600 W around mould
Temperature range
20 to 200°C
Heating cycle
0 to 30 min
Cooling cycle
0 to 30 min
Pressure
0 to 1,600 daN
Double mounting
Yes - all diameters
Program back-up
300 with USB connexion
Pressurisation modes
4 different modes
Chamber closing
Half turned cover with a safety chamber
Mould changing
Quick, without connectors- electric or hydraulic
Pre-heating mode
Yes (cleared after 6 min without manipulation)
Water saving
yes (up to 25%)
Voltage
230 V – 50 Hz single-phase
Pneumatic feed
6 to 10 bars
Dim. W x H x D
250 x 680 x 470 mm
Weight
72 kg (depending on mould size)
Reference
60 PL110 00
*The mounting chamber can be changed without any tools, nor electric or hydraulic connections.
It only takes a few minutes to change the complete heating unit.
Exclusive safety device
The expulsion of the sample after the mounting cycle is only possible when the safety cover is located in its intermediary position. This device creates a safety chamber in which the sample is protected in case of an eventual sticking situation.

The PRESSLAM®1.1 is equipped with a main heating unit which contains the removable cylinder. The standard heating unit covers diameters from 25,4 to 40 mm and a specific element is available for a 50 mm diameter.
VIDEO & VISUALS
Designand advanced technology

The PRESSLAM®1.1 is the ideal link in your mounted sample production line. It is a compact machine that is both easy to use and easy to maintain and will allow you to increase your productivity while maintaining unrivalled flexibility.




Reference Customer (กดที่โลโก้ เพื่อดูเว็บไซต์ของลูกค้าที่สั่งซื้อสินค้ากับทางบริษัท)​
อยู่ในระหว่างการอัพเดทข้อมูล...