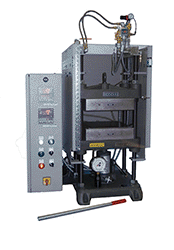 Bench Top Compression Molding Presses for Laboratory Applications
Manual ASTM Press for Testing Specimens of Plastics, Elastomers and Other Thermoplastic Materials.

Model 12-12H-ASTM Catalog #4391-ASTM

The Manual ASTM Model 12-12H-ASTM (catalog# 4391) was designed to perform the ASTM compression molding of test plaques or bar specimens of Type I, II, III, IV or V polyethylene and other thermoplastic resins. The procedure is in conformance with ASTM Method D 4703 Procedure C (formerly D1928, Procedure C). This compression molding press is equipped with heating and manually water cooled platens and a programmable digital controller which has a heating/cooling loop for each platen and built-in program for the required 15°/minute ±2°C cooling rate.

Specifications of the Bench Top Manual ASTM Plastic Molding Model 12-12H-ASTM (4391-ASTM):

Clamping force 12 tons
Adjustable Daylight 0" – 10" (Factory set at 4-½")
Stroke 5-1/8"
Four (4) fully threaded columns
Two (2) 12" x 12" electrically heated steel platens cored for ASTM water cooling, Temperature range up to 343ºC, sized for 8 ºC/minute temperature rise, Platen & perimeter insulation, Programmed platen cooling per ASTM D-4703 Procedure C (formerly D1928 procedure C), Package includes platens designed for flood cooling, inlet and outlet manifolds and valves for platens, programmable temperature controllers with ramp capability, One digital temperature controller per platen
0-24,000 lb analog pressure gauge (in 200 lb increments)
230V 1-Ph supply voltage
Electrical disconnect (non-fused)
Dimensions: 32 "L-R x 29"F-B x 53"H (uncrated)
Weight: 770 pounds (uncrated)

Available Options:

Floor stand 19"L-R x 19"F-B x 30"H Wt 125# (catalog #223171D)
Floor stand 36"L-R x 26"F-B x 30"H W/6" Casters Wt 260# (catalog #223215C)
12 ton hydraulic unit repair kit (catalog #3729)
Carver Special Hydraulic Fluid (Oil) (part #2170)
Two gauge manifold (catalog #2096CE)
Additional gauge choice for two gauge manifold (each)

0 - 500 Lb. gauge, 250 Kg, 5 lb increments (catalog #381042)
0 - 1,000 Lb. gauge, 450 Kg, 10 lb increments (catalog #381001)
0 - 2,000 Lb. gauge, 900 Kg, 20 lb increments (catalog #381002)
0 - 5,000 Lb. gauge, 2250 Kg, 50 lb increments (catalog #381003)
0 - 10,000 Lb. gauge, 4500 Kg, 100 lb increments (catalog #381004)

Digital Gauge (catalog# 6306.BN23 100 lb or 6306.BN22 10 lb)

Easy read LCD Round Gauge Face
Stem Mounted for Manual Presses only
Battery powered
Readings generate in 100 or 10 pound increments on 24,000 pound gauge
Approx. accuracy: +/-1% of reading between 1,000 lbs & 24,000 lbs force

The following calibrations and certifications are provided with the press: Pressure calibration and certification traceable to NIST (10 point check), Calibration of platen temperature controls (10 point check), Temperature uniformity of platens, and Platen parallelism.

NOTE: To run material class 1 thru 4 requires a constant water supply of 13 deg. C (55 deg. F.) To run class 5 material, a constant water supply of 8 deg. C (45 deg. F) is necessary. Water and air cooled chillers for providing the proper process water are available as an option.

ASTM Chase Frame Kits

Description (Sample size)
Catalog Number
100 Mylar Sheets (separate purchase)
Teflon
Coated Steel
Stainless Steel
Brass
4"x 4"x 1/8"
4079
4080
4081
4161
6"x 6"x 1/8"
4082
4083
4084
4162
8"x 8"x 1/8"
4085
4086
4087
4163

PDF Brochure [ Last Update 2021 ]
Reference Customer (กดที่โลโก้ เพื่อดูเว็บไซต์ของลูกค้าที่สั่งซื้อสินค้ากับทางบริษัท)​
อยู่ในระหว่างอัพเดทข้อมูล...