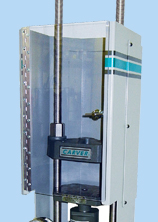 Safety Shields with Hinged Front Access Door
Laboratory Press Parts and Accessories for Carver Presses

Attractive cabinet encloses pressing area to protect operator from objects which might fly from the compression area. Hinged front access door is clear, shatterproof polycarbonate. Recommended for use on all presses. Will accommodate heated platens.

Reference Table
Part#

Description - Fits Most Models with or without heat
3404
Mini "C" presses
3295
Model "C" presses
3253
Model "M" presses
3322
Presses with 10" x 7" Work Area
3418
Presses with 12" x 12" Work Area
4427
Presses with 15" x 15" Work Area
Reference Customer (กดที่โลโก้ เพื่อดูเว็บไซต์ของลูกค้าที่สั่งซื้อสินค้ากับทางบริษัท)​
อยู่ในระหว่างอัพเดทข้อมูล...