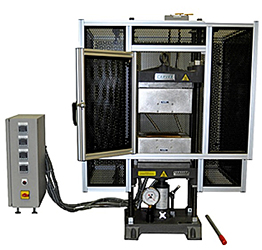 Temperature Bench Top Laboratory Manual Presses with Electrically Heated Platens and Monarch Floor Standing Model Presses Available
Bench Top and Floor Standing High Temperature Presses: 12 to 100 Ton Capacity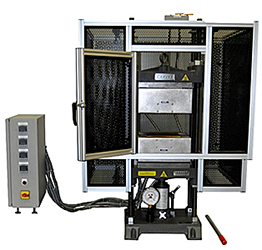 Picture shown with manually hand operated model and analog gauge
High Temperature model presses are available in our Manually Hand Operated, Auto Series and Monarch Press Models. The platen temperatures go up to 1,200 deg F (650 C upon request). Due to the high temperature outputs, these High Temperature Presses are designed with an extended safety shield to cover the press for operator safety. A variety of options are available including water cooling. Please consult our factory with your application needs so that we may design the most suitable High Temperature Press to meet your application needs.
Reference Customer (กดที่โลโก้ เพื่อดูเว็บไซต์ของลูกค้าที่สั่งซื้อสินค้ากับทางบริษัท)​
อยู่ในระหว่างอัพเดทข้อมูล...