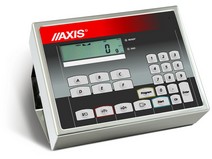 - single- or multicomponent dosing
- up to 50 dosing programs 6 dosing outputs (8 optionally)
- function and digital keys
- LCD display


Meters ME-02 in connection with extensometer sensors are used for standard weighing. Converters may be connected directly or through adding (passive) module, allowing for sensors sensitivity correction. Meters have filtrating and correcting systems, which gives high class of measurements precision. Module operation control program allows for free setting of measurement range (max), reading unit (d) and verification unit (e).
Technical data :
Model
ME-02/N/LCD
Capacity
(number of verification units)
max 6000e (3000e for subrange in multirange operation)
Reading unit (d)
1, 2, 5, 10, ... (g, dkg, kg)
Verification unit (e)
adjustable
Tare range
-Max
Working temperature
-10÷40°C
Dimensions
238x182x77mm
Power supply
~230V 50Hz 6VA
Weight
2,3kg
IP protection class
IP65
Applied error fraction (pi)
0,5
Input voltage range
4,8÷19mV/9,6÷38mV/19,2÷72mV
Lowest possible input signal
0,4µV/e
Number of sensors
max 8
Sensor impedance
40÷4000 Ohm
Sensor supply
5V AC 25Hz
Sensor connecting system
1 sensor: 4-wires system, 1-6 sensors: 6-wires system
Housing
stainless steel
Keyboard
numeric and function keys
Display
LCD