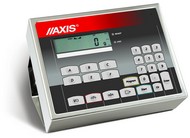 - 32-bit microprocessor
- LCD 13mm display
- numerical keys
- bar-code reader, printer, label printer
and computer cooperation
- extended set of special functions
ME-11 meter is a component assigned to build 1- or 2-range scales using extensometer force sensors. Meter is equipped with a set of numerical keys designed to facilitate inscribing numerical data : tare value, threshold values and identification data (product ID, operator ID etc.).
Meter can cooperate with bar-code readers, printers, label printers and computer.
Technical data :
Type
ME-11/N/13 (LCD)
Range (verification plots)
max 6000
Readout plot (d)
1, 2, 5, 10, ... (g, dkg, kg)
Verification unit (e)
for II and III class scales
Tare range
-Max
Work temperature
-10÷40°C
Dimensions
238x182x77mm
Supply
~230V 50Hz lub 12V (option); accumulators (option)
Weight
2,3kg
Protection class
IP65
Applied error fraction
0,5
Lowest possible input signal
0,3 μV
Sensors impedance
40÷4000 Ohm
Sensors supply
5V AC 25Hz
Connecting sensors system
4 or 6 wires
Housing
stainless steel
Keyboard
digital keyboard
Display
LCD 13mm