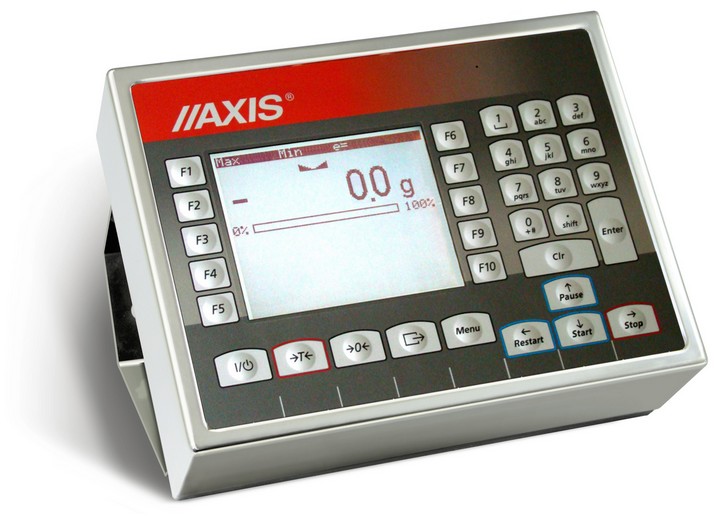 - external label printer control
- EPL/ZPL languages
- function and alphanumerical keys
- Graphical display


ME-03 meters are designed for control of label printers (EPL/ZPL language). Digital keyboard allows for entering: expiration date, product bar code, price, product name etc.. The data is stored for 1000 products. Moreover it is possible to print: producer's logo, tare, current date and time, charge, number of packages, number of pieces in package, sum of net and gross weights, cumulative labels. Label print may be performed automatically after weighing. Function keys and possibility to copy product settings to other products speeds up operation with the meter.
Technical data :
Model
ME-03/N/G (LCD)
Capacity
(number of verification units)
max 6000e (3000e for subrange in multirange operation)
Reading unit (d)
1, 2, 5, 10, ... (g, dkg, kg)
Verification unit (e)
adjustable
Tare range
-Max
Working temperature
-10÷40°C
Dimensions
238x180x86mm
Power supply
~230V 50Hz 6VA
Weight
3kg
IP protection class
IP65
Applied error fraction (pi)
0,5
Measurement voltage range
-10mV ÷ 10mV lub 0mV ÷ 10mV
Lowest possible input signal
0,3µV/e
Number of sensors
max 8
Sensor impedance
40÷4000 Ohm
Sensor supply
5V AC 25Hz
Sensor connecting system
1 sensor: 4-wires system, 1-6 sensors: 6-wires system
Housing
stainless steel
Keyboard
numeric and function keys
Display
LCD