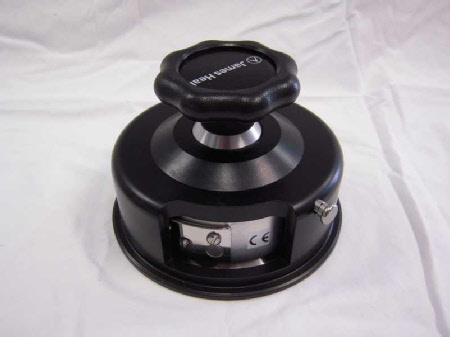 เครื่องตัดชิ้นงานตัวอย่างแบบใบมีดทรงกลม (Circular Sample Cutter) สามารถตัดชิ้นงานตัวอย่างฟิล์ม หรือกระดาษ ที่มีขนาดเส้นผ่าศูนย์กลาง 4.95 นิ้ว (125.73 มิลลิเมตร) หรือมีพื้นที่ 100 ตารางเซ็นติเมตร
The model DT-100-C is a circular sample cutter designed for laboratory use to create circular samples for weight determination. It features high-quality replaceable steel cutting blades, available in a variety of sizes, for precision cutting of plastic film, plastic sheet, rubber, paper and other sheet materials.

Increases Productivity, Maximizes Your Investment in Test Instruments
The DT-100-C can increase your productivity, replacing hand-trimming with the ability to cut precise multiple samples of your sheet materials with one pass. By providing consistent test samples, this labor-saving machine maximizes the accuracy and usefulness of your various test instruments.
The Oakland Advantage

Oakland Instrument Corp.'s model DT-100-C sample cutter offers numerous advantages:

User-Friendly, Safe Design
The spring return on the cutter's handle lever and the adjustable down stop make our model especially easy to operate while giving you consistent, clean samples. Retractable blade design for safe operation.

Replaceable Cutting Blades
The DT-100-C features replaceable cutting blades that can extend the life of your cutter.

Meets ASTM and TAPPI Standards:
The DT-100-C cuts samples that comply with industry requirements for clean, sharp edges.

Exceptional Value:
Best price-performance ratio of any sample cutter on the market!
Significant Features & Specifications
Durable Design:
Manufactured from high quality aluminum
housing with powdercoat paint finish for
durability.
Replacement Blades:
Interchangeable steel blades available.
Sample Size:
100 cm2 Area Sample Size: 4.95 inch
Equivalent Diameter.
Rugged:
Heavy duty, 5 lb weight
W x D x H: 6 x 6 x 4.5 inch
(15 x 15 x 12 cm)
Robust and flexible, the DT-100-

Recommended for plastic films, plastic sheet, and paper up to 20 mil thickness


Heavy-duty spring-loaded "press & rotate" design cuts clean, precise circular specimens with a surface-area of 100 cm2


Four flexible-steel cutting blades rotate and cut the sample specimen, cutting with a "razor-blade" style cutting action.

Product Brochure.
Reference Customer (กดที่โลโก้ เพื่อดูเว็บไซต์ของลูกค้าที่สั่งซื้อสินค้ากับทางบริษัท)​
อยู่ในระหว่างอัพเดทข้อมูล...