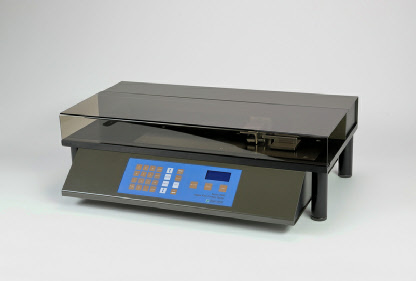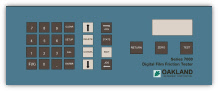 เครื่องวัดสัมประสิทธิ์ความเสียดทานของฟิล์ม และกระดาษ (Electronic COF Tester) ตามมาตรฐาน ASTM D 1894
Oakland's Model FX-7300 is a digital COF Tester for determining static friction and kinetic friction of all substrates including plastic film, coatings, cartons, textiles and paper. Built-in keypad for statistics display of peak & real-time force, or static & kinetic COF on the console display. Add Oakland's Model FX-7200 Software for full software-driven, computerized operation.



Full-Featured Friction Tester for Film and Sheet Materials
In the past, film and sheet producers and converters have had thechoice of off-line friction testers which are manually operatedstand-alone machines, or expensive computer-operatedmachines. Now you can have both in a single instrument.Oakland Instrument offers the Model FX-7300, a simple to usestand-alone digital-based tester with optional software for fullcomputer-control with automatic calculation and graphical displayof static and kinetic friction data.
Improved Film Quality, Increased Profit Margins
The Model FX-7300 Friction Tester is a proven tool for more closelycontrolling nominal and peak friction properties to speed your:
• Production additives settings and adjustments
• Research and development of new film products
• Inspection of incoming film products
• In-process checks to ensure on-spec product for convertingoperations, and to monitor "blooming" of slip additives duringwarehousing
• Quality-control reporting
The Oakland Advantage

Meets ASTM & TAPPI
Meets specifications of ASTM D1894 Standard Test Method for Static and Kinetic Coefficients of Friction of Plastic Film and TAPPI Method T-549. Coefficients of Static and Kinetic Friction of Uncoated Writing and Printing Paper by use of the Horizontal PlaneMethod



Advanced Technical Features in Each Mode
• Fixed sled speed of 6 inches per minute. Plus sled speedsettings of 1, 2, 5 and 10 ipm for peel and seal testing
• Cutting templates available to reduce sample preparation times
• Can be run in Digital/Manual mode or Digital/Software mode
• Calibration tools available for in-house system calibration
• Heated platen available as an option for elevated temperaturesample conditioning and testing


Specifications
Mode of operation:
Off-line testing / lab use
Digital force measurement, zeroing, and calibration
Materials:
All sheet materials
Measurement Range:
0 – 1135 gram (2.5 lb), 0 – 2270 (5.0 lb)
other ranges available
Accuracy:
± 0.15% Full Scale
± Least Significant Count
Resolution:
0.1 gram
Sample Rate:
1000 / sec
Drive Rate:
6.0 inch / min. ± 0.1 inch / min.
Select from presets of 1, 2, 5, 6 or 10 inch / min.
Heated Platen:
(Optional)
Power Requirements:
115 VAC / 60 Hz, 230 VAC / 50 Hz, or consult factory for special requirements
Dimensions (HxWxD), Instrument:
9 in (23 cm) x 28 in (71 cm) x 19 in (48 cm)
Weight, Instrument:
75 lb (34 kg)
Weight, Packaged Instrument:
95 lb (42 kg)
Serial Data Communications:
USB
(Due to Continuous product improvement, all specification are subject to change without notice.)
Options and Accessories
Computer system and Model FX-7200 Quality Control Software for statistical andgraphical analysis of friction data. Allows full computer-control of your FX-7300 Electronic COFTester

Heated Platen available as an option for elevated temperature sample conditioning and testing

Peel / seal fixtures, tensile grips, and other accessories available

Standard or custom systems designed to meet specific customer needs

Product Brochure.
Reference Customer (กดที่โลโก้ เพื่อดูเว็บไซต์ของลูกค้าที่สั่งซื้อสินค้ากับทางบริษัท)​
อยู่ในระหว่างอัพเดทข้อมูล...