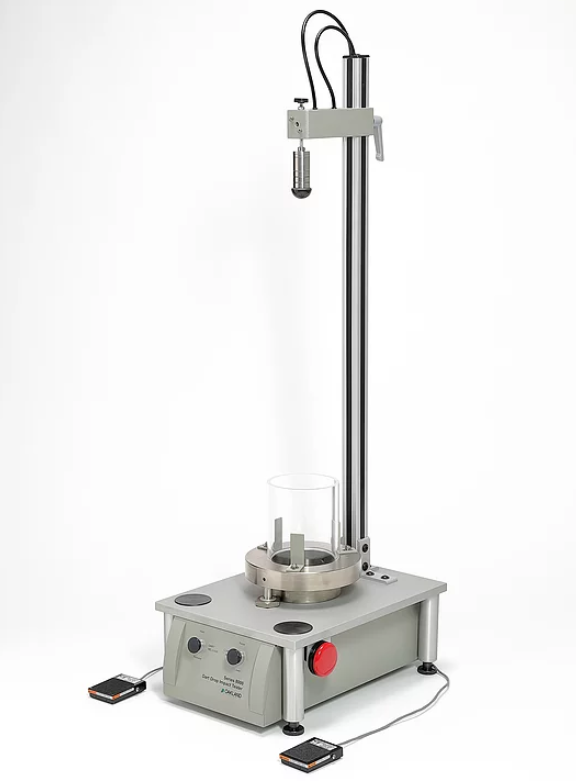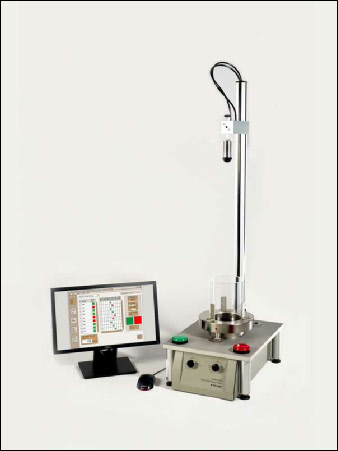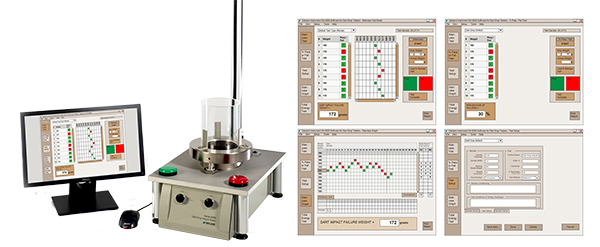 เป็นเครื่องทดสอบการตกกระแทกของฟิล์ม (Dart Drop Impact Tester) ตามมาตรฐาน ASTM D 1709 Method A และ B พร้อมโปรแกรมสำหรับการคำนวณผลการทดสอบ
Improved Film and Sheet Quality, Increased Profit Margins
The Series DX-8300 Dart Impact Tester is a proven tool for more closely controlling nominal and peak strength characteristics to speed your:
Production and additives settings and adjustments
Research and development of new film and sheet products
Inspection of incoming film and sheet products
In-process checks to ensure on-spec product for converting operations
Advanced Technical Features
Full Electronic Operation
Provides Advanced Safety Features plus Software and PC Connectivity.

Industry-Leading Software
Automate your Tester with the DX-8300 Dart Drop Software; allows Pass-Fail testing plus Staircase testing to automate ASTM D1709 testing requirements.

Easy Pneumatic-assisted Operation
Operates with pneumatic-assist for dart release and film/sheet sample clamping. Pneumatic-assisted clamping and dart release is useful for higher clamping forces without the requirement for large, inefficient electromagnetic releases.
Expandable; Flexible Operation for Method A & B Testing
Portable and expandable with models for Method A testing, or Method A & B combination testing. Extensions and custom dart stems & weights available for testing to your in-house developed requirements.

Affordable
Best of all, the series DX-8300 is economically priced. Comes complete with everything needed to run tests.
Technical Data
Technical Data
Model DX-8385-A
Model DX-8385-AB
Mode of Operation:
Off-line testing / lab use
Materials:
All sheet materials
Test Method Drop Height:
Method A 26 in. (66 cm)
Methods A & B 26 in. (66 cm) and 60 in. (152 cm)
Actuation Method:
Electronic
Dart Release Mechanism:
Pneumatic
Sample Clamp Mechanism:
Pneumatic
Dart Sets Included:
Method A
(412 gram), (2)120 gr., (1)60 gr., (1)30 gr., (2)15 gr., (2)5 gr.
Method B
(412 gram), (2)120 gr., (1)60 gr.,
(1)30 gr., (2)15 gr., (2)5 gr.
Optional Weights: (ASTM D1709 Suggested)
Method A
(8)60 gr., (8)30 gr., (8)15 gr., (2)5 gr.
Method B
(8)90 gr., (8)45 gr., (2)15 gr.
Dart Head Material Provided:
Phenolic
Phenolic (Method A) / Stainless (Method B)
Optional Dart Head Materials:
Aluminum / Stainless Steel
Aluminum
Air Requirements:
60 psi / Dry & Filtered
Power Requirements:
115 VAC or 230 VAC
Overall Height:
48 inch
80 inch
Weight:
55 lb
65 lb
(Due to continuous product improvement, all specifications are subject to change without notice.)
Reference Customer (กดที่โลโก้ เพื่อดูเว็บไซต์ของลูกค้าที่สั่งซื้อสินค้ากับทางบริษัท)​
อยู่ในระหว่างอัพเดทข้อมูล...