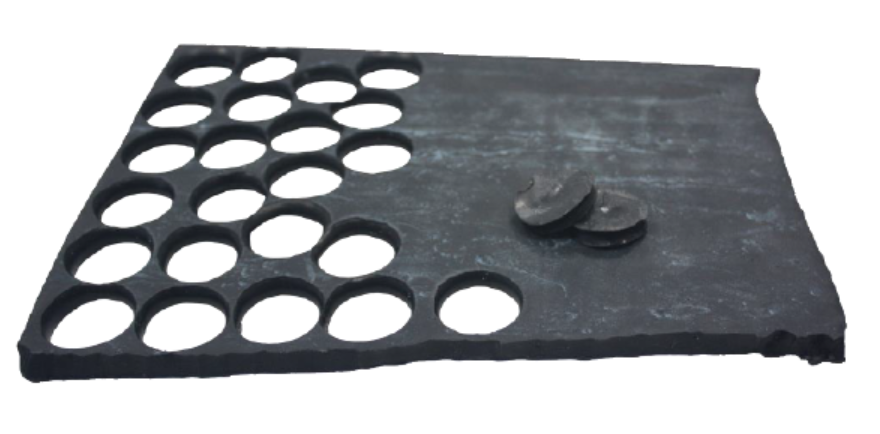 เป็นแผ่นยางอ้างอิงมาตรฐานสำหรับการวัดค่าเวลาการคงรูปของยาง (Reference Compound for Rheometer) จาก ARDL ประเทศสหรัฐอเมริกา เพื่อใช้ในการตรวจเช็คเครื่องวัดค่าเวลาการคงรูปของยาง หลังจากการซ่อมบำรุง การสอบเทียบ และตรวจสอบประสิทธิภาพของเครื่องว่ายังอยู่ในสภาพที่พร้อมใช้งานอยู่หรือไม่ ตามมาตรฐาน ASTM D 5289, D 6204, D 6601, D 6048, D 7050, D 7605, ISO 6502 และ ISO 13145 เป็นต้น
Rheologic Control Compound for Rheometer
Statistical process control is a fundamental key to success in today's high precision, high volume, continuous process production in the rubber and plastics industries. Instrument calibration to standard references with continual monitoring is the key to statistical process control. Without it, keeping your production on-line and on-spec is nearly impossible.
Akron Rubber Development Laboratory, Inc. (ARDL) is the source for your lab's vital control material - a standard compound for Rheometer process control. This product, a certified SBR compound chosen for its reproducibility, is produced by ARDL under carefully controlled and monitored conditions. This reference material is available with certified characteristics. The following results are typical: (See note 1).
PRODUCTION
ARDL will produce this material in accordance with ASTM standard production and process controls. All raw materials will be certified to ASTM standards and to manufacturers' specifications. All production will be on certified and calibrated equipment by trained and certified technicians, under the direct supervision and control of ARDL.