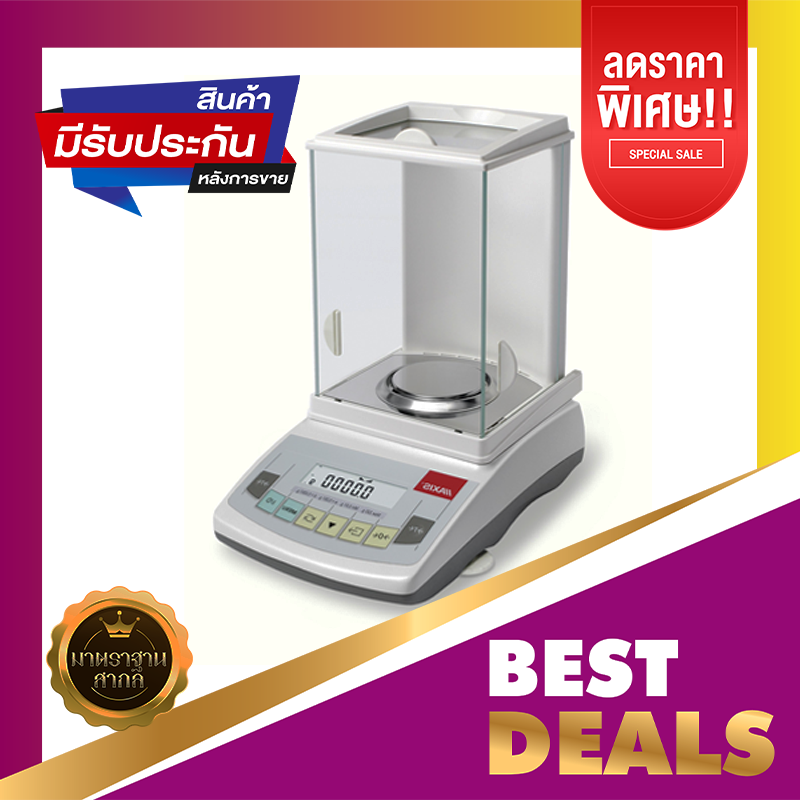 เครื่องชั่งดิจิตอลความละเอียด 4 ตำแหน่ง 0.0001 กรัม (Analytical Balances) ขนาด 60, 120 และ 220 กรัม พร้อมระบบสอบเทียบแบบอัตโนมัติ (Internal Calibration)
Digital display
Internal calibration
Standard keyboard
RS232C interface in standard
Popular analytical balances are designed for weight measurements with very high precision. Those balances have calibration system with internal weight, which assures maintaining of measurements precision during operation without user's intervention. Spacious, closed with slidable glass on three sides weighing chamber allows for comfortable and efficient operation in rooms, where elimination of air movements is impossible. Illuminated LCD display and standard set of balance keys assure efficient communication with balance in range of measurements and user full set of extended special functions. Wide range of user special functions is helpful during use of often repeated measurement activities. Standard RS232C connector allows for connecting computer or printer to print receipts and reports or weighing results statistical processing.

Special functions:
- Full set of special functions
- statistics functionstatistics function
Technical Data:
Model
ALN60
ALN120
ALN220
Capacity (Max)
60g
120g
220g
Reading unit (d)
0,1mg
Verification unit (e)
1mg
Tare range
-60g
-120g
-220g
Accuracy class
l
Working temperature
+18÷35°C
Interfaces
standard: RS232
Weighing time
<5s
Pan size
ø90mm
Total dimensions
215(235 with legs)
x345x350mm
Weight chamber dimensions
175x140x230mm
Balance weight
6,5kg
Power supply
~230V 50Hz 6VA / =12V 1200mA
Recommended calibration weight (OIML)
E2 50g
E2 100g
E2 200g
Reference Customer (กดที่โลโก้ เพื่อดูเว็บไซต์ของลูกค้าที่สั่งซื้อสินค้ากับทางบริษัท)​
อยู่ในระหว่างการอัพเดทข้อมูล...